a co-creative journey into the new economy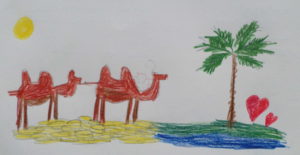 the sun is burning without mercy and reflects in the golden waves of this barren land. i take a closer look at the soil and to my surprise it is not sand that glitters, it is gold that glitters. when i take an even closer look it is golden coins, i am in a valley of shining money! but the heat is unbearable and there is no water for miles.
then in the far distance i see a train of camels. this sign of life might just be my prayer answered. it is a caravan, heading for the next oasis of love.
this caravan of love is departing from the ruins of capitalism, a land full of money but void of care. therefore this caravan is heading for the nearest oasis of love, an economy that we all would love to live in.
here is a compilation of the evening, 7 dec 2017, royal tropical institute, amsterdam:
video by olivier jansen
this evening we followed the travel guide for an inner journey into the sharing economy